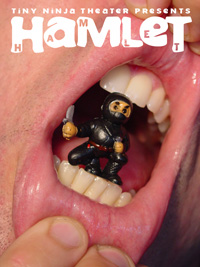 "Once you've seen its Romeo & Juliet, you'll want to come to back for figurine versions of Hamlet or Othello or whatever else."
The Washington Post
---
---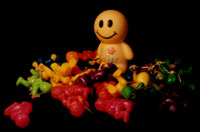 The Show | The Press
"Raise a nunchaku to director Dov Weinstein and his madcap 40-minute adaptation of Shakespeare's Scottish play. Weinstein manipulates a disciplined retinue of inch-high molded plastic ninjas -- excepting Mr. Smiley in the title role and Mrs. Smiley as his lady -- through a rapid-fire round of murder, treachery, and revenge. Bloody, bold, resolute, and utterly fringey in the most splendid sense of the word. A plastiscene pleasure."
(Alexis Soloski, The Village Voice)

---
---
---
---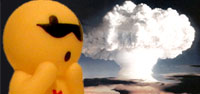 ---


Sign up for our mailing list to receive breaking Tiny Ninja News Alerts and updates on upcoming shows.

OK, mostly updates on upcoming shows.
Tuesday, April 21, 2009

weblog powered by blogger


---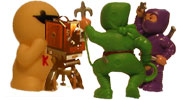 In The Tiny Ninja Production Studio, you can create your own Tiny Ninja scenes. Take a screen shot of your creation and -- our favorites will be showcased on the website.
(To use The Tiny Ninja Production Studio, you'll need to have the Flash Player installed. To take a screen shot: PC: <Print Screen> Mac: <Shift> & <Command> & <3>.)


---


TINY NINJA THEATER presents ROMEO & JULIET

"Once you've seen its Romeo & Juliet, you'll want to come to back for figurine versions of Hamlet or Othello or whatever else."
The Washington Post

"Action Figure Genius: Quick, clever, and chock full of surprises, more than one audience member claimed that it even outperformed the hit interpretation of the Scottish play."
The Charleston City Paper


TINY NINJA THEATER presents MACBETH


"Phenominally entertaining"
American Theater, Sept 2002

"...delightful and amusing, and you leave the theater energized and oddly moved."
Time Out New York

"It was delightful and inventive and mesmerizing - my favorite Macbeth in years."
The State

"Weinstein has developed a presentation that is so fully realized, so artfully conceived, so wonderfully inventive that one cannot help but become a willing participant in the suspension of disbelief."
Charleston Post & Courier

"Weinstein... speaks the text rather better than some classically trained actors I have heard."
The Guardian (UK)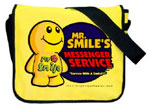 NOW AVAILABLE:
Posters, Frisbees, Clocks, Aprons, Tote Bags, Messenger Bags, Hats, Caps, Visors, Tank Tops, Boxers, T-Shirts, Mugs, Travel Mugs, Sweatshirts, Underwear, Mousepads, Tile Coasters, Tile Boxes and more.




4/8/03: Talented Performer Takes On Two Roles with a Smile
"If there is a greater challenge to an actor than playing Shakespeare, it's the challenge of playing two very different Shakespearean roles — one tragic, one comic — in the space of 24 hours."

3/6/03: Romeo & Juliet closes March 10, revival begins March 20
"An era has come to an end. We commiserate with the cast and crew of Les Misérables, who must be on the same emotional rollercoaster that we are."

2/18/03: Ninjas Gear Up for Time Square Debut
"Who would have guessed way back in 2000, when we started out in the dank, un-air-conditioned Present Company Artspace, that we would eventually end up on Broadway?"

2/6/03: The NYC Debut of Romeo & Juliet
"Some companies, when transferring a show to Broadway, would attempt to fill the title roles with big-name actors to boost sales. We're just not that kind of company."

2/18/02: Tiny Ninjas Return to Charleston
"Will Mr. and Mrs. Smile, who played Macbeth and Lady Macbeth in Tiny Ninja Theater presents Macbeth, take on the title roles in Romeo & Juliet as well? 'I'm not prepared to discuss casting at this point,' said director Dov Weinstein..."

7/17/01: Nuclear War Extended
"Before I saw this show, I was going to fly over to the U.S.S.R. and poke that Gorbachev right in the eye."

7/2/01: Tiny Ninja Theater Joins The Quorum's Format
"The ninjas have been wanting to do improv for a long time."

12/3/00: Tiny Ninja Theater's Macbeth Closing December 26
"Finally we'll be able to transform the Artspace into a hip cabaret venue. And if that doesn't work, we could always go back to using the place to store garbage. Garbage."

10/6/00: Macbeth Begins Open-Ended Run
"When The Present Company offered to extend the run again, we leapt at the opportunity, because where else in New York City can you find a small, dank, drafty space like this one?"

9/19/00: Macbeth Extended Through October 14th
"There is no truth whatsoever to the rumor that David Hasselhoff will be replacing Mr. Smile as Macbeth in this new run."

8/28/00: Macbeth Extended Through September 30th
"We're very pleased to be able to continue the show, especially since we were worried for a while that Mr. Smile would have to return to L.A. to work on a sitcom."

8/12/00: Tiny Ninja Theater Announces Macbeth
"If tiny plastic ninjas had existed in the 17th century, I have no doubt that Shakespeare himself would have staged the play in this way."